Setting up a translation memory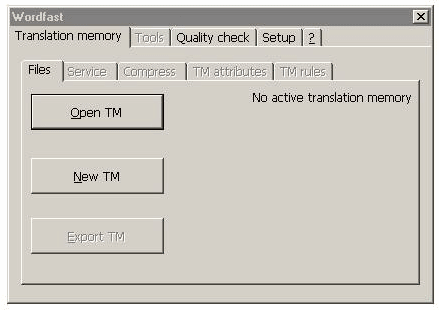 Translation Memory (TM) is the heart and soul of CATs. The picture on the left show Wordfast translation tab as you will see it the first time you open it.
If you already have a translation memory you would like to use, click on "Open TM" and select your translation memory.
At this time, Wordfast support translation memories in the following formats :
Text "*.txt", Translation Memory eXchange "*.tmx", Trados TMs "*.tmw", Trados *.txt exports and IBM Translation Manager EXP files.
Note : Opening a translation memory may take a short while depending on your system and the size of the TM you import.
If you do not have a translation memory for the project you are working on, or that you want to use a new TM, simply click on "New TM" and follow the instructions.
As a suggestion, I recommand you create a folder to store all your translation memories, and that you maintain at least one translation memory per subject you are translating. For instance, you are very unlikely to be able to re-use past IT translation when translating a car manual, or a financial statement. Actually, best is to have one translation per subject for a single client. If you want to, you will always be able to merge diverse TMs if you think it might be usefull for the project you are handling.